Paul's Bio
Paul J. Rauseo was Managing Director of George S May International Company, the world's leading management consulting firm for small to medium sized businesses. Rauseo joined the May company in 1995 and was a worldwide performance setter in the firm's 85 year rich history. Since then, Rauseo's leadership and passion have become hallmarks of his tenure at the company.
Rauseo is focused on continuing innovation and expertise across the globe for challenges that plague leadership and management personnel. Rauseo's goal is to provide integrated business solutions to ensure a seamless profit-engineering plan execution.
Notoriously described as exuberant, funny, focused, passionate, hard-charging and dynamic, Rauseo has infused his own brand of energetic leadership, vision and spirit to business.
Rauseo was born in Boston, Massachusetts where his father worked on turbines for General Electric. He graduated from Malden Catholic and subsequently Northeastern University. While in school, Rauseo managed the French club, the sailing club, the investment club, worked on the school newspaper and studied classical organ. After college, he worked for various companies gathering outlooks from all walks of business life. Among Rauseo's philanthropic efforts are included The Opera Insider, International Chamber Artists, and the mentoring of young business people nation-wide.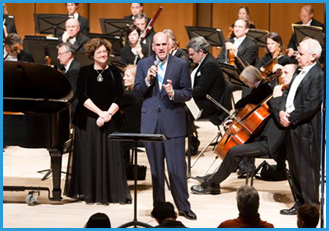 As Chairman of the Board, Paul address the Chicago Philharmonic Orchestra audience as this institution approaches their 20th Anniversary.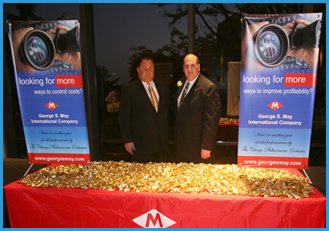 Paul Rauseo watches over the gold nuggets that symbolize opportunity.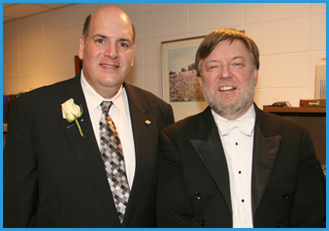 As Chairman of the Board, Paul welcomes Sir Andrew Davis, Music Director & Principal Conductor, Lyric Opera of Chicago, to the stage.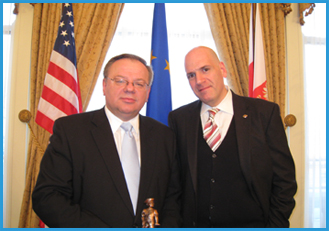 Paul Rauseo attends a function at the Polish Embassy in Chicago in honor of the Polish Consulate's visit to Chicago from Poland.